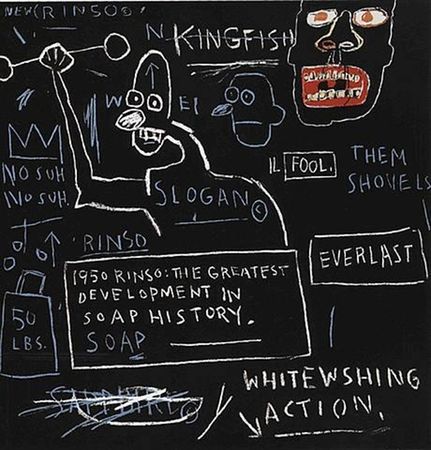 Jean-Michel Basquiat, Rinso, 1980
Serigraph / Screenprint. 40 x 40 in. Estimate: from $12,000 to $16,000

Note: Striking, large print with the scrawling graffiti language and musings that the artist is famous for. This piece is signed by Gerard Basquiat, executor of his late son's estate.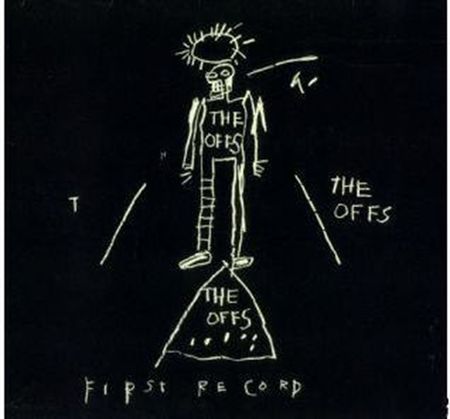 Jean-Michel Basquiat, The Offs, 1984
Lithograph, offset for record album. 12 x 12 in. Estimate: from $1,500 to $2,500

Notes: Original limited edition lithograph by Basquiat created for punk rock group "The Offs" in 1984.

In 1983 Basquiat became friendly with the punk rock group "The Offs." He wanted to play in the band, but was not good enough. Instead he did a drawing for The Off's first record album cover and was paid $500 for his effort. Warhol, who was friendly with the group's producer, had Interview Magazine music critic Glenn O'Brien write up a review of The Offs. O'Brien mentions that Basquiat created the album cover. Limited edition, with hand-signed letter of authentication from publisher, as well as photocopy of Interview Magazine article. Another impression has been exhibited in New Museum show of album covers.

Handsomely framed, with two sided frame to show the back of the album, with the attritubution from Jean-Michel.
Jean-Michel Basquiat, born in 1960, gained popularity at a young age. Just entering his twenties, Basquiat became known for the political and poetical graffiti that began to appear on walls around New York City under the signature SAMO ("same old shit"). The most successful of the 1980s-era Neo-expressionist artists, Basquiat's work is in major museum collections around the world. Basquiat's mother was Puerto Rican and his father was Haitian and his struggle with his mixed-race identity is often reflected in his artwork through the themes of race and identity. He died tragically at the age of 28.
Artnet Auctions. Tuesday, January 26, 2010, 1:54 PM EST www.artnet.com