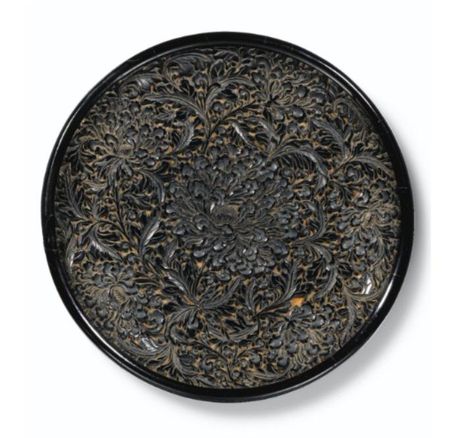 An exquisite black lacquer 'peony' dish. Song Dynasty. Photo Sotheby's
of circular form with shallow rounded sides, deeply and densely carved through thick layers of black lacquer through to the ochre ground below with a large peony in full bloom, surrounded by five attendant blooms and leaves, the petals richly detailed through varying depths, framed by a thick rim, the exterior similarly decorated with six flowers and their leaves, the recessed base lacquered in black, together with a bid slip from an auction;; 7.2 cm., 6 3/4 in. Estimation 400,000-600,000 HKD. Lot 3137 vendu: 1,460,000 HKD
PROVENANCE: Sold at auction in Kyoto, pre-1871.
NOTE DE CATALOGUE: This fine black lacquer dish with large blooming peonies represents the mature Southern Song style where the decoration is attractively laid out, the carving is bold and deep, with little of the background left exposed. The flowers and leaves are especially elaborate and a sense of depth in the decoration is realized by the multiple layers within the design. The final product is also finished to a shiny rich smoothness. Closely related carving can be seen on a cinnabar lacquer dish included in the exhibition So Gen no bi, Nezu Institute of Fine Arts, Tokyo, 2004, cat. no. 94, and on a square dish with flowers and bamboo, cat. no. 95. A large black lacquer dish, included ibid., cat.no. 86, deeply carved with birds and flowers on a similar ochre ground, displays much of the characteristics seen on this piece.
This carving technique was continued and further developed in the Yuan period; see a Yuan black-lacquer dish finely carved with large chrysanthemum blooms amongst bold luscious leaves, in the Cleveland Museum of art, illustrated in Hai-Wai Yi-Chen. Chinese Art in Overseas Collections. Lacquerware, Taipei, 1987, pl. 56; another dish carved with a pair of birds amongst large flower blooms, in the collection of the Seattle Art Museum, illustrated in Michael Knight, East Asian Lacquers, Seattle, 1992, pl. 6; and a 14th century signed cinnabar lacquer dish carved in the same style with blooming flowers and large curling leaves, formerly in the collections of Professor E. Balla and Dr. W. Balla and later in the British Rail Pension Fund, sold in our London rooms, 12th December 1978, lot 251, and again, 12th December 1989, lot 41. Compare also a black-lacquer dish deeply carved with a pair of long-tailed birds amidst
luscious peony blossoms and leaves, in the Fitzwilliam Museum, Cambridge, included in Derek Clifford, Chinese Carved Lacquer, London, 1992, pl. 22.
Sotheby's. Fine Chinese Ceramics & Works of Art. Hong Kong | 04 avr. 2012 www.sothebys.com